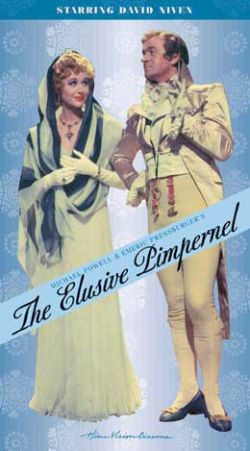 Movie:
The Elusive Pimpernel
Director:
Michael Powell / Emeric Pressburger
Produced by:
British Lion Films, Franco London Films, London Films
Released By:
–
MPAA Rating:
–
In this costume adventure set in France during the Reign of Terror, a mysterious man known only as the Scarlet Pimpernel rescues noblemen from the guillotine and leads them to safety across the English Channel. Chauvelin is determined to unmask the Pimpernel and bring him to justice. When evidence begins to suggest that the hero is actually foppish Sir Percey Blakeney, Chauvelin blackmails Percey's wife, Marguerite, into cooperating on the threat that he'll expose the criminal activities of her brother Armand. However, Marguerite doesn't much care for her husband, hardly believes he could be the heroic Pimpernel, and is startled when she finds out that he truly is the masked vigilante. The Elusive Pimpernel was originally shot in color as a musical, but the musical numbers were cut before the film was released, and the picture's American distributor chose to make only black-and-white prints.