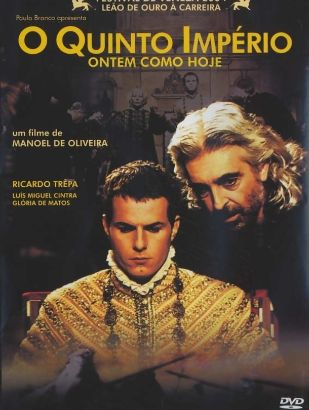 Movie:
The Fifth Empire – Yesterday as Today
Director:
Manoel de Oliveira
Produced by:
Gemini Films, Madragoa Filmes
Released By:
Lusomundo Audiovisuais
MPAA Rating:
–
A man who set out for Africa to fight in the name of Christ becomes an immortal legend when he disappears after confronting a Muslim sultan in director Manoel de Oliveira's adaptation of a play by Jose Regio. In the late 1570s, Dom Sebastiao longed to establish a Portuguese empire, but in 1578 he vanished without a trace. In the years that follow Sebastiao's story evolves into the myth of the hidden king. Years later, in Portugal, Sebastiao makes a messianic return as a king on a white steed, with a mission to save humanity from an all-consuming darkness. Determined to extend his empire beyond the borders of Africa, Sebastiao subsequently leaves the country in order to realize his divine vision of a Christian Portuguese empire.