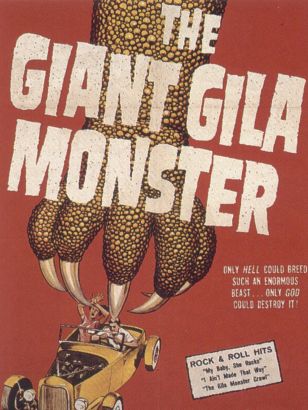 Movie:
The Giant Gila Monster
Director:
Ray Kellogg
Produced by:
Hollywood Pictures, McLendon Radio Pictures
Released By:
–
MPAA Rating:
–
In The Giant Gila Monster, most of the plot is given over to a group of hot-rod enthusiasts, headed by nice-guy Chace Winstead, who sometimes breaks into song. Before long, the titular gila monster, which is just that — a real gila monster — is lumbering about on miniaturized sets terrorizing the community, killing at random, knocking over trains and barns, and in general making a nuisance of itself. When the monster threatens to devour Chace's kid sister, he attempts to dispatch the beast with a hot rod full of nitroglycerin. The Giant Gila Monster was originally released on a double bill with The Killer Shrews.