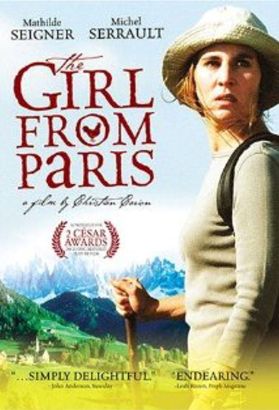 Movie:
The Girl From Paris
Director:
Christian Carion
Produced by:
Artemis Productions, Canal Plus, Mars Films, MS Film Productions, Nord Ouest Productions, Rhône-Alpes Cinéma
Released By:
Artificial Eye Film Productions, Mars Films, Nord-Ouest
MPAA Rating:
–
Can a thirtysomething gal from the city find happiness with a goat farm and its aging overseer? Sandrine is a computer expert who has successfully pursued a career in business, however, her career path was chosen to please her family more than herself, and Sandrine has decided to move away from the fast pace of city life to rural France. Hoping to put her job skills to work in a new context, Sandrine begins studying agriculture, and arranges to buy a goat farm from Adrien, an elderly farmer who is nearing retirement. Adrien will spend another year and a half at the farm in order to insure a smooth transition to Sandrine's management, but his attitude toward her speaks less of gratitude than resentment, he isn't eager to show her the workings of the farm he helped to build, and his behavior is more than a bit hostile. Using her computer skills, Sandrine creates a website that generates a whole new market for the goat cheese and fruit preserves the farm generates, which helps her win Adrien's grudging respect, and when Adrien falls ill and it looks possible he may not live out his final stay on the farm, he begins to open up to her, sharing all he knows about the farm, and a new level of admiration and trust grows between them. Une Hirondelle a Fait Le Printemps was the first feature film from writer and director Christian Carion.