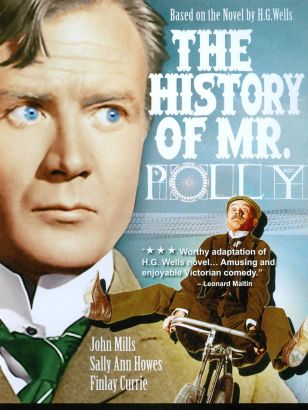 Movie:
The History of Mr. Polly
Director:
Anthony Pelissier
Produced by:
General Film Distributors, J. Arthur Rank Productions, Two Cities Films
Released By:
–
MPAA Rating:
–
H. G. Wells' non-fantasy efforts have, with the exception of Kipps, proven traditionally difficult to transfer to film. History of Mr. Polly occasionally suffers from too-close fidelity to its Wellsian source, one wishes that adaptor/director Anthony Pelissier could have "opened up" the story a bit more. Still, the film is impeccably cast: particularly good is John Mills as Alfred Polly, whose efforts to make a go in the business world continually come acropper. A humble draper's clerk, Polly is profoundly affected by a variety of personal relationships, most notably with colorful Uncle Jim and his nagging wife Miriam. Ultimately, he finds happiness in an even humbler pursuit than the drapery business. Star John Mills' daughter Juliet shows up in a very minor role.