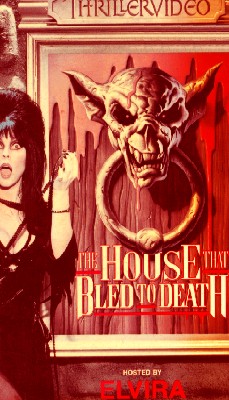 Movie:
The House That Bled to Death
Director:
Tom Clegg / Francis Megahy
Produced by:
Thrillerv
Released By:
–
MPAA Rating:
–
A minor installment in the BBC's otherwise superb Hammer House of Horror television series, this installment details the woes suffered by a suburban family whose house displays the usual earmarks of rampant poltergeistism — ranging from body parts in the fridge to literal geysers of blood bursting from overhead plumbing during the daughter's birthday party. The setpieces are obviously derivative of The Amityville Horror, with the only original twists arriving at the ending — which turns out to be quite a groaner. Released in the U.S. first to cable TV, then to the "Thrillervideo" label, with bumper segments hosted by buxom horror vixen Elvira, who peppers the proceedings with her usual banter — to wit: "When a house starts bleeding, it's darn near impossible to get a tourniquet on that sucker.