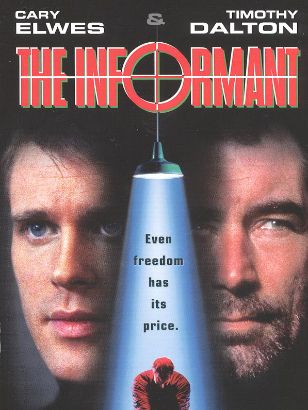 Movie:
The Informant
Director:
Jim McBride / Nicholas Meyer
Produced by:
Hallmark Entertainment, JLS Productions, Showtime
Released By:
–
MPAA Rating:
R
This made-for-cable drama concerns political unrest and personal crises set against the battle for a free Ireland in Belfast in 1983. Gingy McAnally is a member of the Irish Republican Army who, after serving a stretch in prison, is once again called upon by the IRA to work with them. While McAnally is not certain if he wants to get involved with "the troubles" again, he grudgingly agrees after the safety of his wife and children is threatened by IRA henchmen. However, McAnally is soon busted by Lt. David Ferris, a British army officer, and is ruthlessly interrogated by Chief Inspector Rennie, one of the leaders of the Belfast Police who is determined to put the rebels out of business. Rennie convinces McAnally that his only hope is to admit to everything he knows about the IRA and its members, McAnally sheepishly goes along with Rennie's demands, and in time, he strikes up a friendship with Ferris. However, McAnally discovers that betraying the IRA has put his life in grave danger, just as significantly, his wife and family are no longer sure that they can trust him after he turns in his comrades.