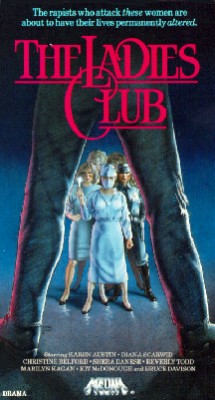 Movie:
The Ladies Club
Director:
Aram Allen / Janet Greek
Produced by:
Heron Communications, Media Home Entertainment, New Line Cinema
Released By:
New Line Cinema
MPAA Rating:
R
A rare attempt by a female director to attack the issue of rape from a woman's perspective, this drama is sure to cause varied reactions. A sense of the film's perspective can be garnered from paraphrasing its publicity: "Rapists have two problems and the 'Ladies Club' is about to remove them both." Statistics of the time note that a woman was raped every seven minutes while the conviction rate was an incredibly low 2%. A policewoman who was brutally raped and the sister of a rape victim who was incurably traumatized band together for a surgical attack on the offenders, aided by a physician whose own tragedy inspires her to lend her skill with a scalpel to the cause. The encounters with rapists, court hearings, and sneaking through police files to identify the men who got away bring suspense to this crusade for justice. Comic relief crops up now and again to leaven the seriousness of the topic.