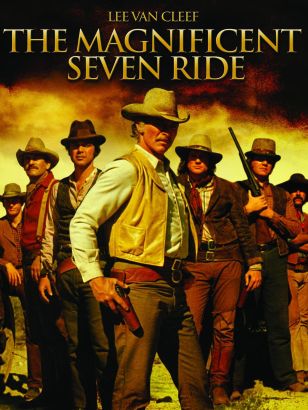 Movie:
The Magnificent Seven Ride!
Director:
George McCowan
Produced by:
Mirisch Company, United Artists
Released By:
–
MPAA Rating:
PG
This is the final sequel to The Magnificent Seven. In this chapter, the lead gunslinger has settled down with a new wife, and has become the marshal of a little town. His peaceful existence is disrupted when a psychotic outlaw rides in, robs the bank, wounds the marshal with his gun, and then rapes and kills his new wife. The marshal is then assigned to save some widowed women from ruthless banditos. To help him, he rallies an eastern journalist and five hardened convicts to ride in and stop them.