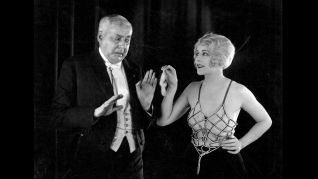 Movie:
The Pleasure Garden
Director:
Alfred Hitchcock
Produced by:
Amyon Independent, Emelka, Gainsborough Productions
Released By:
Artlee Picture Corp.
MPAA Rating:
–
After several collaborative efforts, Alfred Hitchcock made his solo directorial debut in the German-British co-production The Pleasure Garden. Based on the novel by Oliver Sandys, it's the tale of two chorus girls, Patsy and Jill. The comparatively virtuous Patsy marries Levett, the best friend of Jill's fiance Fielding. After the honeymoon, Levett leaves for a job in the tropics, promising to send for Patsy as soon as he's settled. Back in London, Patsy discovers that Jill has been cheating on Fielding with other men. Secure in the belief that her own husband would never betray her, Patsy is shocked to discover that Levett has been sleeping with a native girl in her absence. Driven mad by the treacherous native, Levett kills her and tries to murder Patsy, but she is rescued at the very last minute. Wearily, she comes back to London, where she finally finds happiness with Jill's cast-off sweetheart Fielding. Filmed on a very tight budget, The Pleasure Garden never betrays its parsimonious nature. And though it cannot be labelled a "typical" Hitchcock picture, it contains enough clever pictorial touches to indicate that the man in the director's chair was definitely someone to conjure with. To quote the reviewer of the London Daily Express: "His work is of a uniformly high quality, there are times when it is great, times when the onlooker says to himself 'That is perfect'.