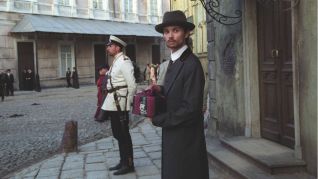 Movie:
The Rider Named Death
Director:
Karen Shakhnazarov
Produced by:
Mosfilm, Mosfilm Cinema Concern
Released By:
Kino International
MPAA Rating:
–
A small band of radicals takes on a dangerous game of political assassination in this historical drama, based on a novel by Boris Savinkov. Near the dawn of the 20th century, with the Russian Revolution lurking on the horizon, George is the steely leader of a group of socialists determined to bring down the Russian monarchy through any means necessary — including violence. Working alongside George are Erna, who makes bombs and has fallen deeply in love with George, Fydor, a peasant who loathes the social and economic inequality of Russian society, Vanya, a philosophical type who believes revolution will allow the better side of the nation to rise to power, and Heinrich, a deep thinker with an extensive education. George becomes obsessed with the notion of assassinating Grand Duke Sergey Aleksandrovich, and as the group repeatedly attempts to kill the monarch, their differences become increasingly evident as the organization splinters and the members follow different paths. The Rider Named Death received its North American premiere at the 2004 Montreal Film Festival.