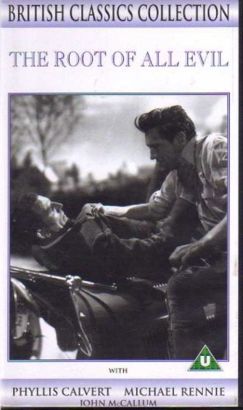 Movie:
The Root of All Evil
Director:
Brock Williams
Produced by:
Gainsborough Productions
Released By:
General Film Distributors
MPAA Rating:
–
Based on a novel by J. S. Fletcher, The Root of All Evil casts Phyllis Calvert as a grimly ambitious woman scorned. Jilted by wealthy Albert Grice, farmer's daughter Jeckie Farnish vows to accumulate enough money so as to never again be dependent on any man's attentions. Suing Grice for breach of promise, Jeckie parlays her generous settlement into a sizeable fortune. She increases her riches by linking up with philandering mining-engineer Charles Mortimer. Though she and Mortimer accrue millions from oil wells, it simply isn't enough: the hard-hearted Jeckie has decided that she craves true romance after all. The moral of Root of All Evil is obvious from the first scene onward: it is up to Phyllis Calvert and her talented co-stars to wade through a sea of cliches and come up with something worth watching.