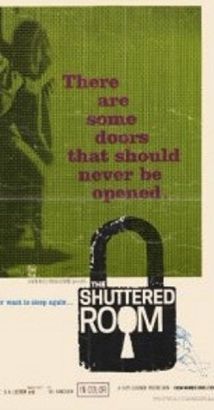 Movie:
The Shuttered Room
Director:
David Greene
Produced by:
Seven Arts, Warner Brothers
Released By:
Pathé Films, Warner Brothers
MPAA Rating:
–
Another semi-successful attempt to adapt the works of American fantasist H.P. Lovecraft to the screen, this is loosely based on the short story The Shuttered Room, a story which is purported to be more the work of "posthumous collaborator" August Derleth. The story involves a couple's return to the creepy old ancestral home, located on an island in New England, in which they soon discover the dark secret hidden behind a heavily-locked door in the attic… a door the fearful townsfolk declare "must never be opened." Oliver Reed delivers one of his patented gruff, over-the-top performances as the local nutcase, and director David Greene creates a suitably moody atmosphere, but much like the Roger Corman-produced The Dunwich Horror, this film fails to act on the spooky potential of its theme.