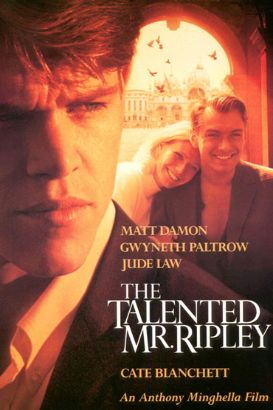 Movie:
The Talented Mr. Ripley
Director:
Anthony Minghella
Produced by:
Mirage Enterprises, Miramax, Paramount, Timnick Films
Released By:
Paramount
MPAA Rating:
R
After the Oscar-winning The English Patient, writer/director Anthony Minghella attempted another tricky literary adaptation with The Talented Mr. Ripley, which features heartthrob Matt Damon cast against type as a psychopathic bisexual murderer. Tom Ripley is a bright and charismatic sociopath who makes his way in mid-'50s New York City as a men's room attendant and sometimes pianist, though his real skill is in impersonating other people, forging handwriting, and running second-rate scams. After being mistaken for a Princeton student, Tom meets the shipping tycoon father of Dickie Greenleaf, who has traveled to the coast of Italy, where he's living a carefree life with his father's money and his beautiful girlfriend, Marge. Dickie's father will pay Ripley 1,000 dollars plus his expenses if he can persuade Dickie to return to America. As Ripley and Dickie become friends, Tom finds himself both attracted to Dickie and envious of his life of pleasure. In time, he decides that he would rather be Dickie Greenleaf than Tom Ripley, so rather than go back to his life of poverty, Ripley impulsively murders Dickie and assumes his identity. The Talented Mr. Ripley was based on the first of a series of novels featuring Tom Ripley written by Patricia Highsmith, the story was previously filmed in 1960 as Purple Noon, with Alain Delon as Ripley.