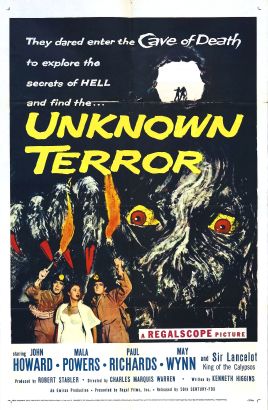 Movie:
The Unknown Terror
Director:
Charles Marquis Warren
Produced by:
20th Century Fox, Regal Films
Released By:
–
MPAA Rating:
–
Western writer/director Charles Marquis Warren makes one of his periodic excursions into horror with The Unknown Terror. Filmed in Mexico, the story focuses on three American adventurers who search for a missing explorer. They stumble across the Cave of Death, the forbidden domain of a mad scientist who has developed a "killer fungus." Before long, one of the trio has fallen victim to the homicidal mold. It is up to the survivors to escape the scientist's clutches and warn the rest of the world of the now-known terror that festers in the wilds of Mexico.