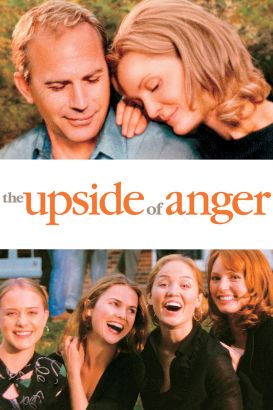 Movie:
The Upside of Anger
Director:
Mike Binder
Produced by:
MDP Filmproduktion, Media 8 Entertainment, Sunlight Pictures, VIP Medienfonds 2, VIP Medienfonds 3
Released By:
New Line Cinema, The Works Distribution Ltd.
MPAA Rating:
R
Two friends wonder if there might be more between them when their lives both take a left turn in this romantic comedy. Terry is a middle-aged housewife and mother of four teenaged daughters and gets the shock of her life when her husband, without a word of warning, leaves them behind, presumably to move to Sweden with his secretary. Going through a bender of depression and alcohol, Terry finds herself commiserating with Denny, a former baseball star turned unenthusiastic radio personality who was her husband's colleague and friend and an occasional presence at the house. With both Terry and Denny feeling down in the dumps about recent events in their lives, the two find themselves drawn to one another, and while Terry fights the notion of a new romance, her daughters — Andy, Hadley, Emily, and Lavender — each have different ideas about their futures. The Upside of Anger was written and directed by Mike Binder, who also plays a supporting role as the producer of Denny's radio show.