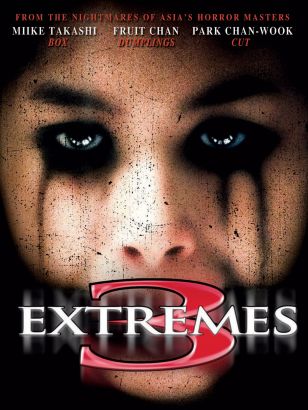 Movie:
Three… Extremes
Director:
Fruit Chan / Takashi Miike / Park Chan-wook
Produced by:
Applause Pictures, B.O.M. Film Production, CJ Entertainment, Kadokawa Pictures
Released By:
Lions Gate Films
MPAA Rating:
R
Three Asian directors, from Hong Kong, Korea, and Japan, join forces to create an omnibus horror film, Three…Extremes. In Fruit Chan's "Dumplings," shot by Christopher Doyle, Mrs. Li, a thirtysomething former actress with a philandering husband goes to visit Aunt Mei, who sells the most expensive dumplings in Hong Kong. Mrs. Li knows about their rejuvenating powers, and she also knows about their unpleasant main ingredient, but after some initial nausea, she digs right in. In Oldboy writer/director Park Chan-wook's "Cut," a successful filmmaker arrives home to find that a disgruntled extra has taken over his home, and fastened his pianist wife to the grand piano. The madman threatens to cut off the wife's fingers, one by one, unless the director strangles the helpless child he's tied to the couch. Takashi Miike directs the last segment, "Box," about a young author and former circus performer, Kyoko, seemingly haunted by the ghost of her twin sister, who died a mysterious and horrible death while practicing their act. Adding to Kyoko's trauma, her editor is a dead ringer for her old stepfather/ringmaster, who may have perished in the same "accident" that took her sister's life. Three…Extremes was shown at Subway Cinema's New York Asian Film Festival in 2005. For the American release of Three…Extremes, the order in which the films are presented was altered from the original "Box," "Dumplings," and "Cut" to "Dumplings," "Cut," and "Box." This film was actually preceded by another omnibus film, Three, that was nevertheless retitled Three…Extremes II for the English-language market and issued after this one.