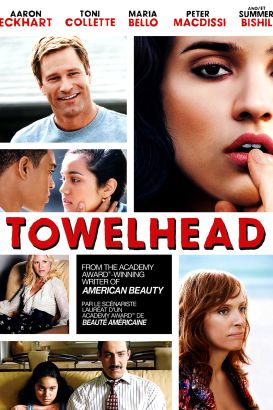 Movie:
Towelhead
Director:
Alan Ball
Produced by:
Indian Paintbrush, This is That Productions, Your Face Goes Here Entertainment
Released By:
Warner Independent Pictures
MPAA Rating:
R
Six Feet Under creator and American Beauty screenwriter Alan Ball makes his feature directorial debut with this screen adaptation of author Alicia Erian's controversial novel Towelhead. Jasira is a 13-year-old Arab-American who's contending with the pains of adolescence when her life takes a sudden and unexpected turn. Sent to live with her stern Lebanese father, Rifat, by her self-absorbed mother, Jasira finds herself struggling to adjust to life in the suburbs while contending with racism and hypocrisy at every turn. Rifat lives in a modest, suburban Houston home next to racist reservist Mr. Vuoso and meddling expectant mother Melina. Adjusting to life in the suburbs isn't easy for young Jasira, though she tries her hardest to adapt to the unfamiliar environment by striking up casual conversations with her curious new neighbors. In the process, Jasira finds herself increasingly attracted to hormone-driven African-American teen Thomas. When Rifat finds out that his daughter's new boyfriend is black, he vehemently condemns the relationship. As America launches its initial invasion of Iraq, Jasira finds herself caught up in a potentially explosive situation that is only compounded by her raging hormones and the snooping of her pregnant, busybody neighbor.