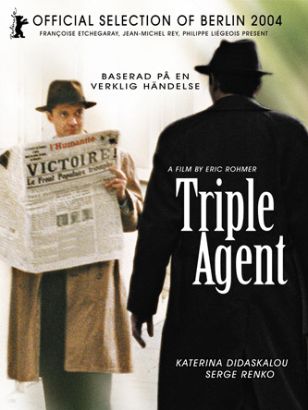 Movie:
Triple Agent
Director:
Eric Rohmer
Produced by:
Alta Produccion, BIM Distribuzione, France 2 Cinema, Tornaasol Film
Released By:
Compagnie Eric Rohmer, Rezo Films, Rezo Prods.
MPAA Rating:
–
Eric Rohmer, the globally-celebrated auteur behind Claire's Knee and Ma nuit chez Maud, helms Triple Agent, a riveting political drama set in 1930s France. The story is based on the historical account of Fyodor Serge Renko, a Russian expatriate general filling the triple role of practicing espionage for the Marxists, Soviets, and Communists, and concurrently deceiving his wife Arsinoé. Fyodor's life ultimately becomes entwined in the throes of deception and his life begins to unravel.