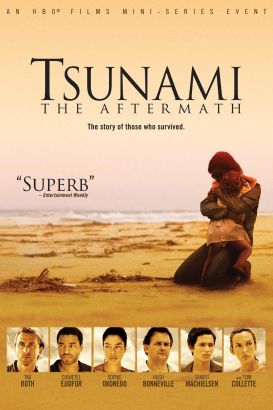 Movie:
Tsunami: The Aftermath
Director:
Bharat Nalluri
Produced by:
BBC, HBO Films, Kudos Film and Television
Released By:
–
MPAA Rating:
–
Filmmaker Bharat Nalluri teams with writer Abi Morgan and an all-star cast to explore the aftermath of the 2004 tsunami that devastated the coast of Thailand. Based on extensive research and interviews personally conducted by writer Morgan, this miniseries explores the cultural and personal fault lines that can be destroyed by such a powerful force of nature while simultaneously highlighting how people from different cultures and a wide-range of social spectrums can come together in times of crisis. As a young couple searches desperately for their missing child, a Thai survivor whose loved ones have been swept away with the rushing waters struggles to prevent real estate developers from seizing the land that was once his village. Meanwhile, a high-profile Thai meteorologist struggles with the knowledge that his dire warnings were repeatedly ignored by officials as an Englishwoman sets out to find her missing husband and son, and an emotional British official whose faith in the system is slowly eroding in the face of tragedy. Tim Roth, Toni Collette, Chiwetel Ejiofor, Sophie Okonedo, and Hugh Bonnevill star in a dramatized account of disaster that sent shockwaves rippling across not only Thailand, but the entire planet as well.