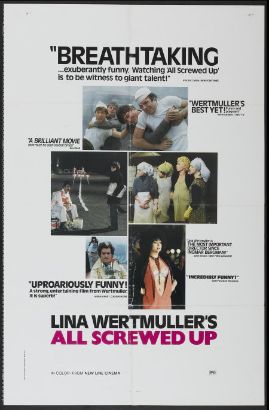 Movie:
Tutto a posto e niente in ordine
Director:
Lina Wertmüller
Produced by:
Euro International Films
Released By:
–
MPAA Rating:
–
Lina Wertmuller's flamboyant satire is an acquired taste, and this unpleasant sociopolitical comedy may be the acid test for potential devotees. Luigi Diberti stars in a scathing look at a group of rural youths who share a Milan apartment-commune in order to combat the economic oppression of urban life. Giuseppe Rotunno's evocative camerawork brings a consistency of tone to even Wertmuller's most extreme indulgences, such as a slaughterhouse ballet, but many viewers will be left scratching their heads wondering what it all means.