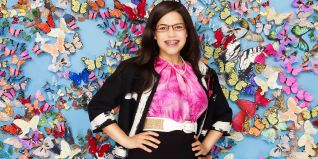 Movie:
Ugly Betty [TV Series]
Director:
–
Produced by:
ABC, Reveille, Silent H Productions, Touchstone Television, Ventanarosa Productions
Released By:
–
MPAA Rating:
–
One of the few bona fide hits of the 2006-2007 TV season, the hour-long serialized dramedy Ugly Betty was based on the internationally popular Colombian telenovela Yo Soy Betty, la Fea, with a few dashes of the recent theatrical film The Devil Wears Prada. Decked out in the most unbecoming eyeglasses, dental braces, and business outfits imaginable, America Ferrera starred as Betty Suarez, who had been hired by powerful publisher Bradford Meade as assistant to his son Daniel, the new editor of the high-fashion "Mode" magazine. Though Betty did not fit in with the standard beautiful-but-vapid employee pool at Meade Publications, Bradford had engaged her services precisely because she was so homely, he was tired of his womanizing son seducing and abandoning every female employee in his path, and figured that the younger Meade would keep his hands off Betty. As it turned out, at first Daniel not only remained aloof from his new secretary, but also did his "best" to make her office life hell, berating and humiliating her at every opportunity. But the resilient Betty was able to survive these verbal assaults thanks to a strong "support group" consisting of her father Ignacio, her sister, Hilda, and her fellow employee and friend Christina, likewise a "square peg" in the Meade headquarters. Eventually, Daniel came to respect Betty, as her unique skills and intelligence got him out of many a difficult situation. Like most continuing dramas of it ilk, Ugly Betty was permeated with sinister and slightly campy subplots, one of which involved Daniel Meade's rival, editrix Wilhelmina Slater, who might well have been capable of murdering her way to the top. Originally slated for a dead-in-the-water Friday-night time slot, Ugly Betty was fortunately shunted to a more advantageous berth as the lead-in for the ABC ratings-grabber Grey's Anatomy. The series first aired on September 28, 2006, and won a Golden Globe in 2007 for Best Comedy or Musical Series.