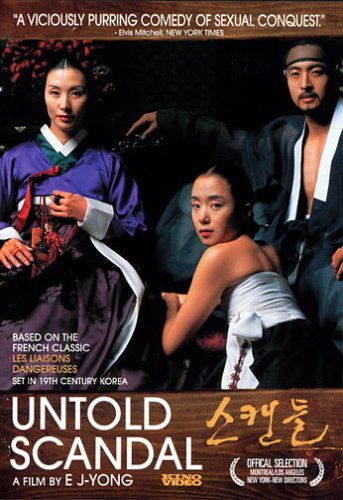 Movie:
Untold Scandal
Director:
E J-Yong
Produced by:
b.o.m. film, CJ Venture Investment, IMM Venture Capital
Released By:
CJ Entertainment, Kino International
MPAA Rating:
–
Writer/director E J-Yong transposes Choderlos de Laclo's novel Dangerous Liaisons to Korea during the repressive 18th century Chosun Dynasty for his costume drama, Untold Scandal. Lady Cho decides to get revenge on her husband when he procures the services of a young, virginal concubine, Lee Soh-ok. She asks her womanizing cousin, Jo-won, to seduce the girl and impregnate her. Cho-won doesn't see this as enough of a challenge. He has his sights set on an honorable young widow, Lady Sook, nicknamed "The Gate of Chastity." Lady Cho makes a wager with Jo-won, offering herself to him if he provides proof that he has succeeded in seducing the widow. While Jo-won struggles to ingratiate himself to Lady Sook, manipulating her handmaiden, and donating money to her Catholic church, Lady Cho works to get the innocent Soh-ok in trouble. But things take an unexpected turn when Lord Jo-won begins to develop genuine feelings for his prey. Untold Scandal was a huge box-office success in Korea, and it was shown at the Film Society of Lincoln Center and the Museum of Modern Art as part of the 2004 edition of New Directors/New Films.