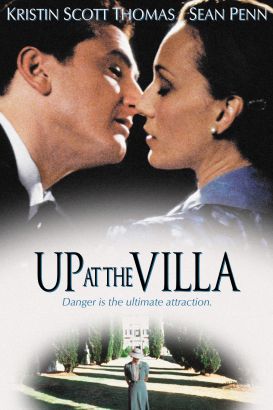 Movie:
Up at the Villa
Director:
Philip Haas
Produced by:
Intermedia Films, Mirage, Universal, USA Films
Released By:
October Films, UIP (in U.K), USA Films
MPAA Rating:
PG13
A woman left alone by the death of her husband finds her love life has become suddenly and dangerously complicated in this drama. Mary Panton is a British woman living in Italy in 1938 who has been financially ruined by the death of her husband. Edgar, an aging diplomat, asks Mary for her hand in marriage, and while she doesn't love him, she longs for the security of a husband and asks for a few days to consider the proposal. The next evening, Mary is invited to a party by an American socialite known as the Princess, there, Mary meets Rowley Flint, a rough-hewn and cocky American who is intrigued by her. Mary also feels drawn to Rowley, but their personalities clash, and they end the evening in an argument. Mary impulsively spends the night with Karl, a young musician who played at the party. In the cold light of day, Mary decides that her fling with Karl is best left as a one-night stand, but Karl insists that he's fallen in love with her, and he melodramatically kills himself. Mary, desperate, calls upon Rowley to help her hide the body, he agrees, and soon they are both being questioned by local fascist leader Leopardi about Karl's disappearance. Up at the Villa was adapted from a novella by W. Somerset Maugham.