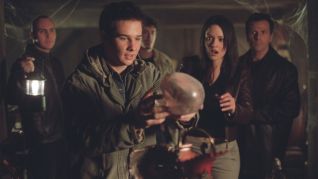 Movie:
Veritas: The Quest [TV Series]
Director:
Perry Lang / Adam Nimoy / Bryan Spicer
Produced by:
–
Released By:
ABC
MPAA Rating:
–
From the creators of Lara Croft: Tomb Raider came this weekly, 60-minute ABC adventure-fantasy series. The titular Veritas was a high-tech archeological team headed by brilliant scientist Solomon Zond and his long-estranged teenaged son Nikko. As the two Zonds awkwardly tried to reconnect after so many years apart, they also embarked upon thrill-packed missions aimed at solving the riddles of long-dead civilizations. Helping Solomon and Nikko in their quest were gorgeous female computer geek Maggie, narrow-visioned pedant Calvin and Solomon's raffish buddy Vincent. Veritas: The Quest debuted January 27, 2003.