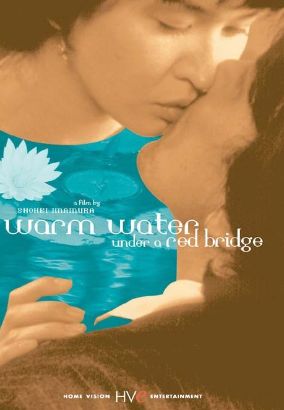 Movie:
Warm Water Under A Red Bridge
Director:
Shohei Imamura
Produced by:
Bap Incorporation, Comme des Cinemas, Dussart Productions, Eisei Gekijo Company, Imamura Productions, Maru, Metro Tartan, Nikkatsu Corporation
Released By:
Cowboy Pictures
MPAA Rating:
–
In 1998, Japanese auteur Shohei Imamura announced his retirement with his wild and wooly war drama Kanzo Sensei. His announcement clearly proved to be premature, as exhibited by this bizarre romantic drama about the power of really good sex, based on a book by Henmi Yo. Koji Yakusho — who starred in Imamura's Unagi along with virtually every Japanese indie film of note in the late '90s — is Yosuke, a once successful marketing exec for an architecture film who is now out of work and separated from his wife. One of his few friends is Taro, an aging bum living under a blue tarp with his collection of rare books. During one of his drunken rants, Taro tells Yosuke of a golden Buddha he stole from a temple in Kyoto and stashed in a ramshackle house adjacent to a red bridge on the rugged Noto peninsula. After Taro dies, Yosuke ventures to the hinterland to see if he can find the priceless statue, and he finds the house, which is inhabited by a senile confectionery maker and by her vivacious granddaughter Saeko. Yosuke's first indication that Saeko is quite unlike the other girls is when he spies her stealing cheese from a local market. She later tells him that her body is a spring of water that wells up within her. The only means of relief is by doing something naughty — like shoplifting — or by engaging in a vigorous round of sex. Soon the two are enthusiastically exchanging fluids, so much so that water blasts from Saeko's nether regions like a fire hose. As the water flows to the nearby creek, fish cluster around to cavort in its special properties. Yosuke decides to stick around, landing a job as a fisherman, not only to service Saeko's special needs, but also to look for the Buddha. This film was screened at the 2001 Cannes Film Festival and at the 2001 Toronto Film Festival.