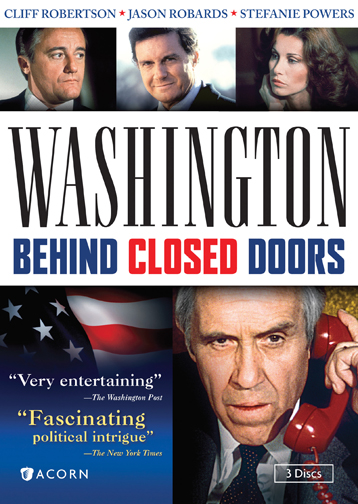 Movie:
Washington: Behind Closed Doors
Director:
Gary Nelson
Produced by:
Paramount Television
Released By:
–
MPAA Rating:
–
This 12-hour TV miniseries was based on the political "roman a clef" The Company, by Watergate coconspirator John Erlichman. It was originally titled simply Washington, the Behind Closed Doors part was added to avoid a potential lawsuit from Gore Vidal, author of Washington DC. This thinly disguised recap of the Watergate affair stars Jason Robards as paranoid president Richard M. Monckton, who "buys" his election by making a covert deal with the FBI. Once he's sold his soul, Monckton leaves his administration wide open for corruption. Also appearing in this ham-handed affair are Cliff Robertson as the CIA director, Robert Vaughn as the Machiavellian chief of staff, Andy Griffith as the Southern-born former president, Lois Nettelton as Monckton's mistress, and Stefanie Powers as a domestic spy. With a Southeast Asian war, questionable campaign contributions and a hotel break-in in the manifest, only the most obtuse viewer of Washington: Behind Closed Doors will wonder who's supposedly who in the cast list. The miniseries originally ran from September 6 through 12, 1977.