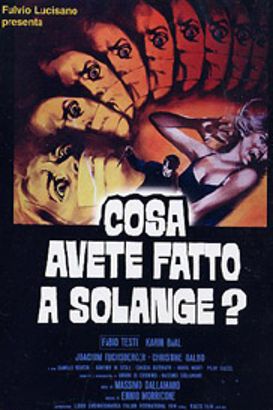 Movie:
What Have You Done to Solange?
Director:
Massimo Dallamano
Produced by:
Clodio Cinematografica, Constantin Film, Italian International Film, Rialto Film
Released By:
–
MPAA Rating:
NR
One of the final links between the Edgar Wallace-based German krimi genre and the Italian giallo thriller, this creepy mystery stars Fabio Testi as a college professor who sleeps with his students and is blamed when a string of murders occurs. Joachim Fuchsberger, as usual, is the police inspector trying to solve the killings, Camille Keaton, Buster Keaton's grand-niece and later the star of Meir Zarchi's I Spit on Your Grave has a supporting role, cameraman Aristide Massaccesi, later infamous as gore director "Joe D'Amato," turns up as a cop. Massimo Dallamano's direction is assured. This first-rate thriller was based on Wallace's Secret of the Green Pin.