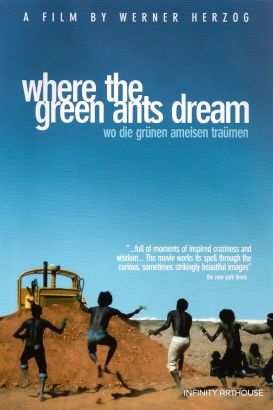 Movie:
Wo Die Grünen Ameisen Träumen
Director:
Werner Herzog
Produced by:
Orion Classics, Werner Herzog Filmproduktion, Zweites Deutsches Fernsehen
Released By:
–
MPAA Rating:
–
In a slightly padded but well-acted and relevant drama, an Australian mining company and a group of aboriginals go to court to settle a dispute over sacred land that the company wants to mine. When the Ayers Mining Company sets out to begin construction of its mine with bulldozers and earth-movers, the Aboriginals physically block the work because the site is exactly where the green ants will gather to dream and it cannot be disturbed. The company tries the usual means of getting their way — through bribes and arguments — but nothing budges the men who came to defend the land. Once in court, it is quickly apparent that tribal laws and customs and beliefs are very different than Western laws — and how the issue will be resolved is sticky indeed.