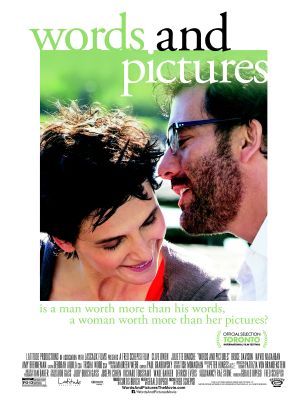 Movie:
Words and Pictures
Director:
Fred Schepisi
Produced by:
Lascaux Films, Latitude Productions
Released By:
Roadside Attractions
MPAA Rating:
PG13
An English teacher and fallen literary star challenges an art teacher to a war of words versus images to determine which form carries the greatest meaning in this romantic comedy drama from director Fred Schepisi. Jack Marcus is a prep-school English teacher who sees his students' obsession with social media as a literary and intellectual abyss. His alcoholism is slowly taking over his life as his estranged son drifts ever further away, and the school's once-proud literary magazine lapses into irrelevance. Meanwhile, art teacher and abstract painter Dina Delsanto wrestles with debilitating arthritis that has forced her to lay down her paintbrush indefinitely. Jack respects Dina and even flirts with her on occasion, but he has a cruel habit of riling her that leads to swelling tensions between the two teachers. As Jack's performance review draws near, he knows that his continued failure to engage his students could cost him his job. Out of Jack's desperation comes a flash of innovation, and he boldly issues a challenge to his rival in the visual arts: Convinced that a mere picture could never truly convey the emotion and nuance of the English language, Jack challenges Dina to create a painting that's as powerful as his own written words. Meanwhile, as the student body grows increasingly engaged in this vibrant creative conflict, love starts to blossom in the heat of battle.